The Legend
of
"Layli and Madjnun"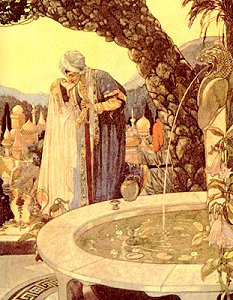 The story of Layli and Madjnun is one of the most popular legends of the Middle East.
Its original version dates back to around 7th Century AD, and can be found in Arabic literature.
The Persian version written by the 12th Century poet Nezami ( part of the set of stories known as
the "Khamsa" ) is not just a classic love story, but a profound spiritual allegory. Folk versions of
Layli and Madjnun have been told from North Africa to India.
The following chapters provide an insight into the origins of this legend, and the story itself:
( The facts in these chapters have been gathered from the Encyclopedia of Islam and Nezami's version of Layli and Madjnun. )

THE ORIGINAL LEGEND IN ARABIC LITERATURE


LAYLI AND MADJNUN IN PERSIAN LITERATURE


---
Copyright shall at all times remain vested in the Author. No part of the work shall be used, reproduced, stored in a retrieval system, or transmitted in any form or by any means electronic, mechanical, photocopying, recording or otherwise, without the Author's express written consent.
Copyright© 1999 K. Kianush, Art Arena
---