This romantic love story can be dated back in its original form to the second half of the 7th Century. The content of the romance, insofar as it can be extracted from the ancient versions, is relatively simple. However, from the start there have been two different versions:
***
In one, the two young people spent their youth together tending their flocks; while in the other, Madjnun [meaning madman] whose actual name according to the narrators was Qays, meets Layla, [commonly named Layli in Persian] by chance at a gathering of women, and the effect on him is devastating...
He kills his camel as a contribution to the feast, and Layla falls in love with him from the start. Subsequently he asks for her hand in marriage, but her father has already promised her to another. Gripped by the most violent anguish, Qays loses his reason and sets out to wander half-naked, refusing nourishment and living among wild animals. His father tries to make him forget Layla, by taking him on a pilgrimage , but his madness only intensifies.
He does, however, show moments of lucidity in his poetry about his lady-love, and while talking about her to those curious people who have come to see him...
He dies alone, only meeting Layla one more time.
***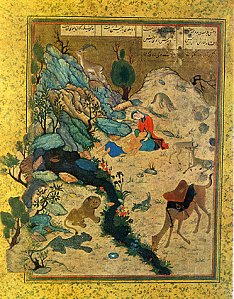 "Layli and Madjnun in the Desert"
Persian Miniature, Herat Style
( 15th - 16th Century )
The origins of this story is difficult to establish. It is thought that it may have been a young man of the Umayyad clan who, under the pseudonym of Madjnun, circulated some stories designed to introduce verses in which he sang of his love for his cousin. This identification is, however, isolated and in any case, the poet is anonymous. The fact that historical individuals such as Nawfal ben Musahik, governor of Medina (702 AD) are mentioned in the traditions relating to the adventures of Qays, suggests that the latter version came to existence at about this period. The author, or rather authors of the verses attributed to this Madjnun and the introductory or explanatory tales, will always be unknown, which makes the legend more mysterious and intriguing.