MODERN PERSIAN POETRY
A Summary of the Introduction to Modern Persian Poetry
By: Mahmud Kianush
Published by: The Rockingham Press 1996

Copyright shall at all times remain vested in the Author. No part of the work shall be used, reproduced, stored in a retrieval system, or transmitted in any form or by any means electronic, mechanical, photocopying, recording or otherwise, without the Author's express written consent.
---
Nima Youshij
Fereidoon Tavallali
Nosrat Rahmani
Fereidoon Moshiri
Nader Naderpour
Mehdi Akhavan Saless
Ahmad Shamloo
Ahmad-Reza Ahmadi
Forough Farrokhzad
Sohrab Sepehri
Mahmud Kianush
Esmail Khoi
Mohammad-Reza Shafii Kadkani
---
...With the emergence of newspapers in Iran, which opened the way for political and literary magazines, the written, and consequently the literary language, was one of the essential elements of any movement towards the modernisation of literature in general. The effects of this inevitable change are reflected in the works of such poets as Iraj Mirza (1874-1925), Arif Qazvini (1882-1933) and Mirzadeh Eshqi (1893-1923). However, all their efforts in changing the language, form and subject matter were the beginning of a real movement towards exploration and experimentation in Persian poetry. This movement was established through the revolutionary measures taken by Nima Youshij (Ali Esfandiyari, 1896-1959) to establish a new perspective in Persian poetry. Prior to him, form was, directly or indirectly, the key to the composition of a poem....
Nima Youshij, having studied in a French school in Tehran as a boy, became more familiar with French than Persian poetry. He had the opportunity to view poetry from a different angle, but he failed to acquire a deep understanding and adequate knowledge of the thematic and technical nature of Persian poetry. Therefore, virtually all the poems, especially the quatrains (Rubaiyat), which he composed, are of a very low standard. Even so, he was courageous in turning away from the classical forms, using hemistiches of different lengths, and rhymes to suit his subject matters. He usually employed rhymes when he thought they would add musical prominence to the meaning, or would connect different parts of a poem in the mind of the reader. Above all, the modernism of Nima Youshij's poems could shine because of his original and spontaneous figures of speech. It was because of these efforts in innovation that Nima Youshij earned his reputation as the founder of modern Persian poetry....
Soon a generation of young poets began various experiments, which led to the creation of modern poetry. Some regarded themselves as the followers of Nima Youshij, but many, though inspired by his innovations tried to find an independent path. Fereidoon Tavallali, for instance, remained very restrained in his innovations, limiting them to a small variation of form. He usually divided his poems into verses of four hemistiches, with the second and fourth hemistich of each verse having the same rhymes. In his poetical outlook, Tavallali was deeply influenced by the lyric poets of the past. In fact most of his poems are either expansions of the themes in single couplets of classical ghazals, or a whole ghazal with a new rhyming pattern. Some of his greatest poems are those written in a descriptive, in some cases a narrative form, recounting his own moods and feelings, or of his beloved's behaviour. His subject matter is sentimental, and he expresses his feelings with romantic exaggeration, using flowery language used and appreciated by young lovers. In the word structure of his poems, he is greatly influenced by Nezami Ganjavi, using many new compound words, nominal and adjectival phrases for expressing the same things usually expressed in ordinary grammatical sentences. This makes his poems sound pompous, confusing the lucidity of his thoughts. Perhaps Tavallali did not have much to offer in terms of modernism in the true poetical values. Almost nothing new can be found in his poems that suggests a discovery, a revelation in poetical vision. His cries of the joy and sorrow of love, his sentimental illustrations of nature, and his pretentious pessimism, stripped of linguistic ornaments, would be reduced to the level of the outpourings of an adolescent.
...Oh, night after night
In the wilderness of my despair
I sat in front of the mirror of my loneliness,
My chin on my hand, drowned in bitter thoughts,
suffering;
And I gave an everlasting colour
To the face of my disgrace.
My heart seeks refuge in you
From the darkness of days,
From the sufferings of nights,
You who are the treasure of my desire,
You who are my unending torment.
Some younger poets, who were more encouraged by Tavallali's first rather successful experiments than by Nima Youshij's poems, were able to be more innovative, trying to widen the scope of their poetical vision, sometimes looking outwards rather than inwards. Among them are Nosrat Rahmani, Fereidoon Moshiri, Nader Naderpour, Hassan Honarmandi, Siyavash Kasrai, and Mohammad Zohari. Rahmani, a drug addict who called himself the Infamous Poet of the Town, based his poetic diction for the most part on the real life of the common people, using images that stand as symbols of their material and spiritual concerns. The actual narrator in the poems is Rahmani himself, as a rebellious, intellectual son of those common people. But Fereidoon Moshiri, soft and lyrical in voice, is more an on-looker of society, passing by people and events, carrying in himself a man of art who cares more for beautiful images than for the thoughts those images are supposed to represent. Even when Moshiri tries to give a voice to social and political matters, in tone and feeling he puts them on a par with his favourite subjects - love and nature.
Nader Naderpour can be regarded as the most successful follower of the path first trod by Tavallali. Unlike Moshiri, but with similar sentimentality, Naderpour goes deeper and observes life through his own experiences. He steadily improved the new forms introduced by Tavallali, with a classical attentiveness to rhythm and rhyme, making his poetry the best example of a modernised version of classical Persian poetry rather than quintessentially modern.
Among the followers of Nima Youshij, it was Mehdi Akhavan Saless (M. Omid), who had the broadest knowledge of Persian classical poetry. Before coming to Tehran from his native city, Mashhad, in the province of Khorassan, he wrote ghazals and qasidas in the classical style with quite remarkable skill. Soon he adopted Nima Youshij's views on form and his outlook changed considerably. He could never alter the antique tone of the classics, though he occasionally used colloquial and local words, giving an interesting, sometimes humorous, tone to his poems. His poetry has a pronounced musical quality with its many puns, rhymes and inter-rhymes. In his poetry this music" with a mixture of colloquial and literary language, sounds like a deliberate accompaniment of the lyre of lyricism with the drum of epic. His excessive interest in rhyme produces many lines, which, though beautiful in themselves, are superfluous. Many of Akhavan Saless's poems are outstanding in all aspects and will survive as the best poems of our time.
Of Akhavan Saless's generation, but with a completely different outlook, is Ahmad Shamloo who began his poetic career by writing sentimental, lyrical and patriotic prose poems. Having some knowledge of the French language and literature, he abandoned the Persian classics and searched for inspiration in the world of modern French poetry, as well as in the works of some other European poets in French translation. He is deeply influenced by Paul Eluard, Garcia Lorca, Luis Aragon and the great Turkish poet, Nazim Hekmat. This influence produced a new point of view and created a new poetical culture in which Shamloos poetry was appreciated and understood by many who were keen to read modern poetry but could not understand and enjoy the poems of Nima Youshij and of many others.
Soon Shamloo completely abandoned rhythm and rhyme and gave to his work the natural music of the Persian language, using soft and harmonious words to make his poems different from ordinary prose. "The Fresh Air" and "The Garden of Mirror" are two collections of his poems from this experimental period. Being in search of a poetical identity, he began to employ some of the characteristics of classical Persian prose of the eleventh and twelfth centuries. He also created some compound words as well as new images. These attempts gave his poetry a relatively independent character, but failed to make it more expressive and powerful. It was more his earlier simple poems, with their politico-lyrical images, that justified his reputation among his admirers.
... On my shoulder is a dove
that drinks from your mouth,
On my shoulder is a dove
That refreshes my throat,
On my shoulder is a dove,
kind and graceful,
That talks to me of light,
And of Man, who is the god of all deities...
My bird of golden song
Nests in the foliage of your abode;
Sweetheart, put on your best dress,
Love is fond of us.
With you I follow my dreams in wakefulness,
I find my poetry in the truth of your brow.
You talk with me of light, and of Man,
Who has kinship with all the gods...
In the 1960s a new generation of poets appeared who, like Ahmad Shamloo, wrote prose poems, but tried hard to be modern by experimenting with Dadaism, automatism, formalism, futurism, surrealism and other known and unknown trends. They called themselves the New Wave Poets. One of them, Ahmad-Reza Ahmadi, was not even twenty when his poems, because of their unusual, sometimes amazing, unyielding and wild imagery, caused controversy.
...I went up blue all the stairs;
The sky of our house was not the same as our neighbours,
I went down hungry all the stairs
To the depth of wheat.
Searching for the whiteness of the horse,
All over the wheat field I could see only one path,
Which my father, with his grey hair, trod.
I had crossed the wheat field alone,
I had seen the wheat
But still I could not say: My horse!
They reaped my horse.
Ahmadis poetry could not give him a place among the established poets, but it did encourage many poets to break the boundaries of familiar and hackneyed imagery, pointing to a new poetical horizon.
Forough Farrokhzad, a poetess who published three books of poems, influenced by Tavallali and his followers, especially Nosrat Rahmani, soon became famous. She was the first woman to be bold, even brave enough to write about the hidden feelings of Iranian women. Her early poetry was weak in form and without any originality in imagery. Later, however, her friendship with writers and poets like Ebrahim Golestan, Yadollah Roya'i Parviz Dariyoush, Ahmad Shamloo and especially Ahmad-Reza Ahmadi, encouraged her to enter quite a different territory of poetical vision. She also began to use broken metres, which are lines of unequal syllables in a poem. She would sometimes let a line fall off the metre in one or two syllables and then return to it. It may or may not have been deliberate, but it gave a fresh tone to the music of her poems. Her more remarkable achievement was the power and subtlety of the images she used to portray the predicament of women, as well as sensual feelings and the states of love, which were considered obscene:
...The clock flew away,
The curtain went away with the wind,
I had squeezed him
In the halo of fire,
I wanted to speak
But, oh, my!
The crowd of his shady eyelashes
Like the fringes of a silk curtain
Began to flow from the bottom of darkness
Along the stretched groin of desire,
Along that quiver, that deadly quiver
Down the lost end of mine.
I felt I was being freed,
I felt I was being freed.
I felt my skin was bursting by the expansion of love,
I felt my fiery mass was slowly melting
And then it trickled, trickled, trickled
Down into the moon, the sunken, the agitated dark moon.
We had wept inside each other,
We had wildly lived
The transient moment of union.
A poet of Shamloos generation, who was also regarded as a modern artist, was Sohrab Sepehri. He began writing prose poems using rather abstract symbolism. His experience with the colours and lines of stylised paintings gave a visual dimension to some of his poems, making them musical pictures. The most notable feature in his poetry is mysticism, a blend of Sufism, Zen-Buddhism and Zoroastrianism, through which the poet invites man to turn away form his evil ways, regaining the innocence of a child in nature.
Later Sepehri almost stopped writing prose poetry and began loosely to use a few of the classical metres, which suited the sad and mystical tone of his narration. He soon became fascinated with abstract images and allowed his poetry to lose its most important element -its simplicity and lucidity of expression. Here are a few of those new images:
Gradually on the wet height of meeting the monastery of light was built...
A throat in the cool thickness of wind was murmuring the loneliness of a friend...
It is morning, the ideal sparrow is chirping,
The autumn is disintegrating on the unity of the wall;
The passage of the exhilarating sun
Startles the mass of decay out of its sleep;
Between the tree and the green moment
The repetition of azure mixes with regret of speech...
Ah, the glance of motion
The mass of the repetitions finger
Closed the crack of my fervour...
This body without night and day
Behind the steep garden of figures
Slept like myth...
With his fascination with such abstract images, Sepehri, like Forough Farrokhzad, was, to a great extent, influenced by Ahmad-Reza Ahmadi, and also by Yadollah Roya'i, the leader of an avant-garde group which called its style "Volume", meaning image with more than one dimension.
Among the generation that followed, Mahmud Kianush was initially considered to be a steadfast follower of Ahmad Shamloo. But after his first book of poems in prose, Mahmud Kianush began his own experiments in forms, meters and rhymes with an eye to Nima Youshij's innovations. From the outset he separated himself from the overwhelming tendency of the time, towards politicised poetry. Even so, his insight into political matters led him to a philosophical understanding of events. His images, while inspired by what was happening in his society and elsewhere in the world, remain timeless, to imply the more general efforts of man to understand life and nature, his wonderings, successes and follies.
He walks through the forest
Full of the affection of rain,
But with the wrath of earthquake.
In his eyes the sight of the blossoms of fire
Reflected in the eyes of water.
In his mind
The tumult of a sudden growth
Of a hundred forests of deer.
With every footfall of his
A great battle fought,
And of bodies of the slain
Heaps and heaps left behind,
All in a deep ecstasy of copulation.
The general of the wild
Is coming through the forest
With the pride of a young lover,
And his beloved, the deer,
-In her eyes the simple dawn of shyness
Mixed with the shadow of fear-
Terribly restless for his arrival.
Behold!
The claws of the conqueror
And the heart of the conquered;
Now!
The prayer of love
In the temple of nature.
Another poet, whose poetry like Kianush's has a philosophical dimension, is Esmail Khoi. However, in the last decade, influenced by the current situation in Iran, Khoi has shown a strong tendency towards political matters. He sees himself as a disciple of Akhavan Saless and has an eye in his language to the classical poets of Khorassan. This gives an epic quality to the tone of his poetry. Though many of his poems have lyrical elements, they are at the same time among the best of contemporary Persian poetry. One characteristic of his poetry is the division of parts of sentences in very long hemistiches. This gives a flow of speech to the whole poem, making it suitable for recitation.
A poet of the last generation before the Islamic Revolution worthy of mention is Mohammad-Reza Shafii Kadkani (M. Sereshk). Though he is from Khorassan and sways between allegiance to Nima Youshij and Akhavan Saless; in his poetry he shows the influences of Hafez and Mowlavi. He uses simple, lyrical language, and is mostly inspired by political atmosphere. He is the most successful of those poets who, in the past four decades, have tried hard to find a synthesis between the two models of Ahmad Shamloo and Nima Youshij, but have failed to find an independent style of their own…
Mahmud Kianush
---
Modern Persian Poetry includes 129 poems by 43 poets writing at all periods of the 20th Century. You can order a copy of this book from most well known bookstores, or from the Art Arena on-line Bookstore. Alternatively, you can contact the publisher directly at the following address;

The Rockingham Press

,
11 Musley Lane,
Ware, Hertz SG12 7EN,
England
United Kingdom

TEL: +44 1920 467 868

Those interested in other works by Mahmud Kianush can contact Art Arena.
---
"Modern Persian Poetry"
(An anthology in English)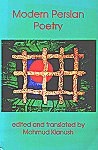 Click to purchase the book.
| | |
| --- | --- |
| | |
| Poetry | Top of page |
---
Copyright

© 1998 K. Kianush, Art Arena
---