Shams-od-Din Muhammad Hafez
A Classic Poet from Shiraz
(c. 1320 - 1389)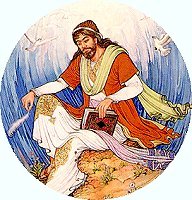 (An artist's romantic portrayal of Hafez)
---
Shams-od-Din Muhammad Hafez was born in Shiraz between 1317 and 1326.
He is known under his pen name Hafez (Koran-memorizer) because he was well-versed in theological studies and knew the Koran by heart. Although Hafez's poetry contains some eloquently worded attacks against the Sufis and ascetics who feign piety, it is said that he himself belonged to a Sufi order.
Little is known about Hafez's life; however, through his poetry we can deduce that he was married and had lost both his wife and a son. He lived during the reign of Abu Eshaq Inju (1343 - 53), Mobarez-od-Din (1353 - 58), and Shah Shoja the Mozaffarid (1358 - 85). There are few if any facts regarding Hafez's relations with the rulers of his time. Abu Eshaq and Shah Shoja were cultured rulers with a love for literature, but Mobarez-od-Din was a bigoted ascetic responsible for many executions under the guise of religion. He is often indirectly referred to by Hafez as mohtaseb the much-hated censor who indulged in controlling not only the business in the bazaars, but also the morals of the people:
"Though wine incites to jocund mirth, and winds through flowers are sighing,
While drinking, let the harp be mute; the mohtaseb is prying.
If e'er thy genial lot bestow a mate and flagon cheery,
With prudence to the goblet turn; the days of life are dreary."
The prohibitions introduced by Mobarez-od-Din came to an end with Shah Shoja's ascension to the throne, which was a time of celebration for Hafez. Nevertheless, for a short period the relations between the new ruler and the poet seem to have been somewhat strained.
After Shah Shoja's death, there followed a period of confusion, with the advance of Timur's armies in the eastern lands of the Muslim world and the conquest of Persia. One of Hafez's ghazals1, has given birth to a famous anecdote that tells of the meeting between the cruel, and yet artistically-minded Timur, and the ageing poet.
Hafez passed away shortly after in 1389.
***
As far as Hafez's poetry is concerned, although he was initially declared a heretic, he was soon to be acknowledged as the leading master of lyrical poetry with the brilliance, energy and originality of his poems shining through. In addition, his verse was given a mystical interpretation and his small divan2 became not only the source of joy for lovers of poetry, but also a mystic and prognostic treasure. Hafez's mausoleum is to this day one of the most important monuments in Shiraz, and is frequented by many visitors, who like to open there the poet's divan to find out what the future may hold.
The real meaning of Hafez's verse has been a matter of dispute. Among all the commentators, the great poet and thinker Goethe stands out, as one of the few who managed to penetrate his psyche. In his Westostlicher Divan, Goethe expresses that for him Hafez's song is "turning like the starry spheres", with the beginning, centre, and end mysteriously united by the same movement.
Today Hafez is considered the undisputed master of the ghazal, and his poems reflect a richness and subtlety unequalled even by that other great talent Saadi. His poems convey something far beyond their external meaning, and thus enable the reader to sense things that transcend the simple statements found in a verse.

The world to me has been a home;
Wherever knowledge could be sought,
Through differing climes I loved to roam,
And every shade of feeling caught
From minds, whose varied fruits supply
The food of my philosophy.
And still the treasures of my store
Have made my wanderings less severe;
From every spot some prize I bore,
From every harvest gleaned an ear,
but find no land can ever vie
With bright shiraz in purity;
And blest for ever be the spot
Which makes all other climes forgot!

A poem by Hafez;
translated by Sir William Jones,
1895

---
1) Ghazal: A Lyric Poem
2) Divan: Poetical Works
---
Copyright shall at all times remain vested in the Author. No part of the work shall be used, reproduced, stored in a retrieval system, or transmitted in any form or by any means electronic, mechanical, photocopying, recording or otherwise, without the Author's express written consent.
Copyright© 1999 K. Kianush, Art Arena
---